Laguna Environmental Center
Stone Farm
Stone Farm History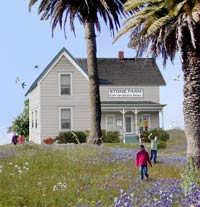 The farmhouse that is now our office was built by Harrison Valentine, one of Santa Rosa's earliest settlers and a founder of its first Protestant church, between 1852 and 1870. The house is located on a rise overlooking the Laguna on the north side of Occidental Road and just east of the Laguna channel. The Civil-War era buildings on the farm are believed to include the oldest surviving farming structures in Sonoma County still in their original rural setting, and the Santa Rosa Cultural Heritage Board has designated the site City Cultural Heritage Landmark #1. The City of Santa Rosa purchased Stone Farm in 1984.
Architectural Style
The farmhouse, circa 1865, is a T-shaped two-story Greek Revival or Homestead ranch house believed to be Sonoma County's oldest surviving farm building still in its original rural setting. The California Department of Parks and Recreation Historic Resources Inventory report on the property describes the house as "an excellent example of rural Homestead architecture during the settlement and early American period." The house has been unoccupied since 1984.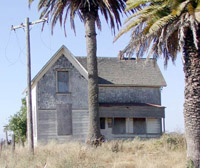 The small barn and hop barn, contemporary with the farmhouse, are of classic 19th century design with pegged mortise and tenon joints and square nails. The Historic Resources Inventory describes them as "unaltered...and typical of such ranch structures in the area." These practical, well-built structures were erected in an era when Sonoma County was one of the most agriculturally productive regions, acre-for-acre, in the world.
Foundation Offices
The Foundation undertook the project of renovating the historic farmhouse and turning it into our administrative offices. Major work included building a new entrance on the historic alignment of Old Occidental Road, moving the house and constructing a foundation and then placing the house on the new foundation, a complete "gutting" and rebuilding of the inside of the old structure, the construction of a mound style septic system, and much more. All of this work was possible thanks to much community support in both financial and in-kind donations.
In July 2009 the Foundation moved its administrative offices into the restored farmhouse. The building was renamed the Churchill Farmhouse in recognition and thanks for the financial contributions and tireless efforts of Ken and Susan Churchill in helping complete the project. The Foundation is also very grateful to the City of Santa Rosa for its support in the form of a generous long term lease on the property.